Exploring the Mayor of London's Fuel Poverty Action Plan
Before we get into this blog, a declaration of interest: SE2 were part of a team which built the evidence base to underpin the Mayor of London's Fuel Poverty Action Plan. So yes, we're marking our own homework a little here…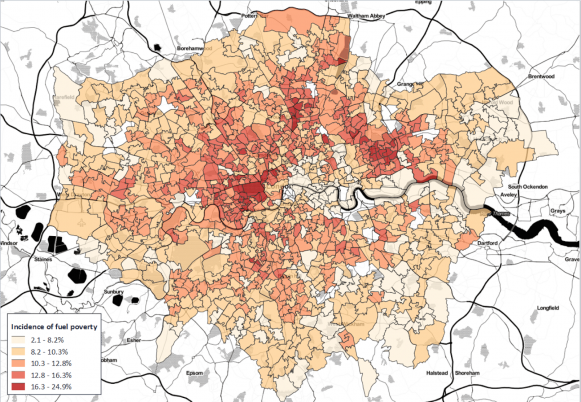 That said, we didn't write the Action Plan itself. So it's interesting to see how insights and ideas developed from the evidence and from stakeholder engagement have emerged into the Action Plan itself. And it's interesting to see how emphasis has been given to tackling what the Plan identifies as the three main causes of fuel poverty: low incomes, high energy prices and poor energy efficiency of homes*.
Let's start with incomes:
Here the Action Plan is overt: the Mayor will support efforts and campaigns to encourage take-up of benefit entitlement checks. Many people are not receiving all of the benefits to which they are entitled (here are some national numbers), so any effort to increase incomes is definitely worthwhile. That said, there is a growing cohort of working people (particularly families) in London who are struggling to pay their bills or stay warm. Many of these families may not be entitled to the benefits most usually used as proxies for fuel poverty. It's interesting to see notes in the Plan on the London Living Wage and reducing transport costs, seeing energy as one bill in the ever-higher cost of living in London.
On prices:
The Action Plan talks about campaigns to encourage switching and – interestingly – tendering for an energy supply company to offer cheaper tariffs to Londoners. This is a step back from earlier ambitions to set up an energy supply company; I agree with this. Market conditions are too uncertain for investment in an energy supply company and any such move might jeopardise the Mayor's ability to be an "honest broker" in conversations with other energy suppliers, Government or the regulator and in his dealings with Londoners. My concern with White Label companies is whether they can sustain their lower price offering, or whether they revert to market prices after an initial fixed term. We shall see.
It will also be interesting to see if the energy supply tender can be broadened to an energy service tender – so that the chosen provider does more than just supply units of energy but has an active interest in wider outcomes for their customers (such as improved energy efficiency or facilitating the transition to a smarter energy system).
While we're on money:

The nice thing about this Plan is that it says "there is money available". There will be funding to support more local referral services and home visits – things which we think are absolutely fundamental to bringing trusted advice and support to households who might be vulnerable or isolated (see our latest research on this topic here). And there will be funding to improve energy efficiency. There's a nice concept mentioned of revolving loan funds for landlords – something which has worked well in the public sector and which helps move away from grants for landlords (who are not the most sympathetic of grantees…).
The other pot of money that's out there – if it can be corralled – is the carbon offset funds received by local authorities. These funds come from developers where they cannot achieve a zero carbon target on site in a new development. There are already some great examples of Boroughs using these funds for carbon reduction and fuel poverty work, and the Plan is keen to encourage this more widely.
The big money issue really is London's ongoing under-representation when it comes to receiving Energy Company Obligation funding. There are multiple reasons for this, but the Action Plan talks positively about engaging with the energy companies and – if needed – lobbying for devolution of ECO funding to city level (an interesting and possibly risky precedent).
Whilst we're on lobbying:
The Action Plan contains a long list of lobbying opportunities:
Fiscal incentives for solid wall insulation (interestingly, not just grants, but perhaps VAT reductions)
Resources to increase HHSRS enforcement capacity in local authorities, to improve standards in the private rented sector
Pushing to make sure that the Minimum Energy Efficiency Standards planned for the private rented sector have some teeth (by removing the "no upfront cost" requirement)
Increased freedom to set up selective licensing schemes at a local level
You'll note that three of the four lobbying positions relate to the private rented sector. The Action Plan specifically recognises that London has an issue with fuel poverty among private tenants and, as rents continue to increase, this problem could become more acute unless strong action is taken. Alongside the lobbying efforts, there is a new London Boroughs Private Rented Sector Partnership, to encourage and support collaboration on many of these issues (and others associated with the sector).
In addition to this, a new Fuel Poverty Partnership is coming, something that we think will make a real different to ensuring collaboration between housing providers, consumer groups, industry, boroughs and other stakeholders.
Last but not least, there are some interesting ideas about data – bringing household level energy performance data together with statistics about income, energy and health to improve targeting of programmes and incentives towards households that are at greatest risk. Data sharing has long been an issue for many players in the sector, and it's great to see a commitment to developing an open source dataset.
So what doesn't the Plan do?
It doesn't cover much about the health sector – how will the Mayor and the GLA engage with the NHS in London to encourage data sharing and provision of referrals between local schemes?
Many of the barriers to take up of ECO are about higher costs to the supply chain (eg, parking, congestion charge, travel times). Even with good data and better relationships with the energy companies, these higher costs could still leave London as a less attractive market in a programme which is all about delivery at lowest cost.
Another major issue in London is flats. The plan rightly points out that 50% of homes in London are flats – but it doesn't then go on to talk about policies or incentives to support improvements of energy efficiency in these blocks. It is obviously a sensitive time for thinking about insulation and heating in blocks – but perhaps this suggests there should be more attention given to these homes at a time when Government, local authorities and others are having address wider issues of safety and quality in high and medium rise blocks.
Still, I'm excited by the Plan - it's great to see such strong leadership, such a broad range of thinking, and a clear focus on some important priority sectors.
The plan is currently at draft stage and open for consultation, so you can have your say at https://www.london.gov.uk/what-we-do/environment/energy/draft-fuel-poverty-action-plan
And we're expecting the evidence base that we drew together with our friends at CAG Consultants, ACE and CSE to be published soon too - watch this space for links!
* I'm interested in a fourth aspect of fuel poverty: how much energy people need to stay warm. This isn't about how much it costs or how much you use, it's about how much you need. Thinking about this picks up issues related to occupancy patterns (are you at home all day?) and health conditions (those who are less mobile are likely to feel the cold more quickly).