Ten Years of SE2 #9: Moving People – Behaviour Change
I wonder how many people's views we've helped shape - or even change - in the last 10 years?
When people ask Liz and I what SE2 does, we usually start with a list of things we don't do: we're not technical, we're not architects, we're not designers, we don't advise the householders… What we do do – most of the time – is help people communicate about climate change and shift behaviours. We help people to see a different point of view; to sit around a table, to listen – and
to be heard.
Sometimes this means us facilitating stakeholder workshops – and we've done a few in our time! This week we're running a session for the Zero Carbon Hub on their new overheating in homes project. Last month we were advising the National Insulation Association how to find out what organisations really wanted for their membership. And earlier this year we ran five workshops for DECC on the future of ECO and the progress of the Green Deal.
It's work that I love – and like to think I'm quite good at it. Of course we can't always make people agree – I'm not sure I even want to. But what's great is when we can help them see past that and look for other areas of co-operation and collaboration. It's when stuff gets done.
At times our behaviour change expertise is used in other ways. We developed modules for induction training for the London Fire Brigade, to help instil good environmental practice amongst all staff, alongside running a Green Champions programme for them over 3 years (which we then adapted and ran for the North West Fire and Rescue Service, as part of their award winning Environmental Hand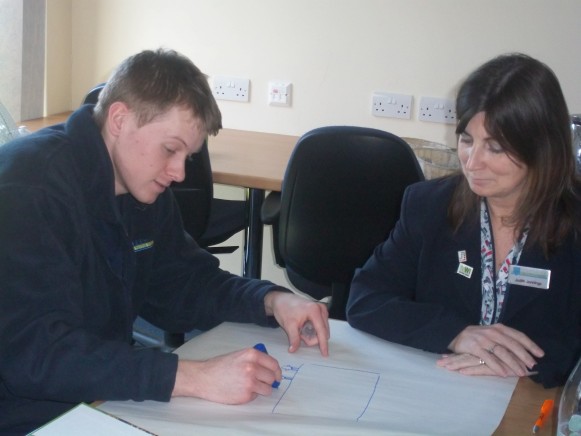 book programme). We've also been involved with the Green Champions programme at Linklaters (we also drafted their Sustainable Procurement policy), and worked closely with Oxfordshire County Council to 'embed low energy behaviours' amongst all their staff.
We've done training too, typically for London Boroughs on fuel poverty, helping frontline workers across a range of sectors understand a little more about the plight of some of their clients and then commit to doing something about it (usually by doing something as simple as picking up the phone to a referral line).
One of the larger change management programmes I'm proud of was with the Carbon Trust, piloted with Climate East Midlands as the Schools Collaboration on Resource Efficiency (SCoRE) and then rolled out nationally as the Collaborative Low Carbon Schools Service (CLCSS). Our role was to work with local authority teams to help them understand their own position on carbon management and then engage with colleagues in other departments to achieve common goals (even if the drivers are different!). My favourite meeting was a large round-table event with maybe 20 different elements of the Council represented – from travel and waste, to IT and school dinners. By the end of the session all of them could see the benefits of working together, and were offering to tweak their own inputs to help get better outcomes for everyone. All – interestingly enough – except the Energy Team who seemed pretty set in their ways. It was a telling tale.
If you think you might need some help in changing behaviours in your organisation, amongst your staff or members, or even across a wider pool of external stakeholders, then do drop me a line to rachael.mills@se-2.co.uk – it'll be great to hear from you!
"No one understands how to get organisations, people and issues from point A to point B more than Rachael. She has an instinctive ability to get people together to work through tough issues and problems and come up with solutions that everyone can sign up to."